Smokey eye Dark Wave 80s Goth Halloween tutorial
Since its getting close to halloween, I thought I would do a halloween makeup tutorial. The look im doing today is a Goth look, I show you my technique to how i do my smokey eye, which can come in handy for other makeup looks, for costumes, party and such.
So we begin with clean face and moisturizing. I like to put on a makeup primer one my eyes so I dont sweat off my makeup. I would suggest Urban Decays Primer Potion.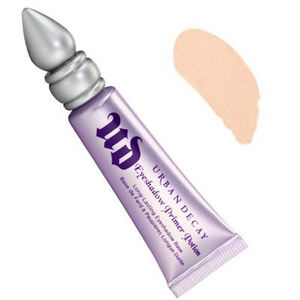 Once you apply the primer to your lids, we start layering the makeup. The way i approach a smokey eye is a layer. I start off with a bass. I would use MAC paint pot, but you can normally use any creme eyeliner. You can use any color bass depending on what colors you want in your smokey eye look. I'm using black.
I'm using a MAC 252 brush to paint on the bass for my smokey eye.  
You need to apply a good amount to your lid, I like to refine my shape into a cateye. Cover lid down to lash line. Next I take a MAC 224 brush and blend out the hard edges.
Now I begin applying eye shadow. Im using Kate Von D Metal Orchestra pallet, I am using the shadows lucifer (matt black), glock (shinny grey silver) and first class (shinny white). For smokey eye you can use any color of eye shadows, I like to use a dark, medium and light when doing a smokey eye.
Using my MAC 213 brush I apply glock (shinny grey silver) over the bass of black.
Next I apply lucifer (black) to the inner corners of my eyes and on the outer rim of the grey.
In the center of my lid close to my lash line, I apply First Class (shinny white).
For added darks i added MAC eye shadow Black Tied Velvet over the darker shadows I have already applied. And to intensify the lights in my eyes I added, Makeup For Ever Silver Flash color. Using my MAC 266 brush, I apply the silver flash color it the  inner under corner of my lower eyelid, and Lucifer (black) to the outer side.
I use my MAC 266 brush to fill in my eye brows, I use Lucifer (black) eyeshadow, and I also add highlights bellow my eyebrow with my Makeup For Ever Flash Silver color. After this you would curl eye lashes and apply mascara. I also added black MAC eye coal to inner lower lid. I also put on false eyelashes, upper and lowers.
This is my smokey eye look. You can do this smokey eye technique with other colors. Now i move on to the rest of my face. I clean up any left over or unwanted eyeshadows and such on my face, and apply foundation. Im using Makeup For Ever Mat Velvet+ foundation and MAC 190 brush. I cover my whole face including my lips.
Im using a paler foundation that would be for my skin tone, so I look paler. I use a MAC 129 blush brush to apply Makeup For Ever HD powder over my foundation.
Next I add blush, Im using an old eye shadow that is bright red and a piece of paper, you can use anything with a straight edge to achieve this effect.
Next I apply MAC Lip conditioner to my lips over the foundation. Next I use a MAC 316 brush to apply Makeup For Ever 313 Lipstick to my inner lip. You can really use any deep red, purple, black lipsticks to achieve this look.
And that is my Dark Wave 80s Goth smokey eye look! Hope you enjoyed!